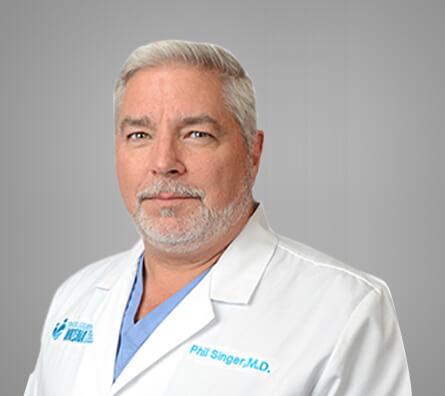 Book An Appointment
Patient Reviews
Dr. Singer received his medical degree and his internship at The University of Louisville in Louisville, Kentucky. He completed his Orthopaedic residency training at The University of Louisville. Dr. Singer is certified by the American Board of Orthopaedic Surgery.
Dr. Singer has staff privileges at Greenview Regional Hospital, The Medical Center at Bowling Green and at The Medical Center at Scottsville.
Memberships include the North American Spine Society, Kentucky Medical Association, American Medical Association, American Academy of Orthopaedic Surgeons, Kentucky Orthopaedic Society, Southern Medical Association, Warren County Medical Society, and the Bowling Green/Warren County Chamber of Commerce.
Dr. Singer has been practicing in Bowling Green since 1991. He has a special interest in surgery of the Spine including adult degenerative conditions of the cervical and lumbar spine including adult deformity. Lumbo-Pelvic disorders including sacro-iliac joint dysfunction are also a special interest. Dr. Singer serves as a consultant to SI-Bone inc., a company specializing in the minimally invasive treatment of sacro-iliac joint disorders.
Department(s)
Location(s)
WKONA
Year Joined GGC
2016
MD Degree
University of Louisville School of Medicine, Louisville, KY
Internship
General Surgery, University of Louisville School of Medicine, Louisville, KY
Residency
Orthopaedic Surgery, University of Louisville School of Medicine, Louisville, KY
Board Certified
American Board of Orthopaedic Surgery
Direct Line