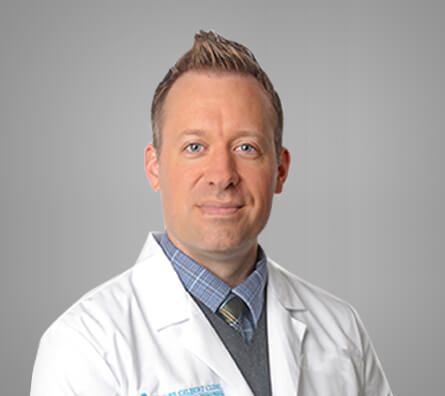 Book An Appointment
Patient Reviews
Graves-Gilbert Clinic proudly welcomes Dr. Christopher R Cook, DO. Dr. Cook is an Orthopedic Surgeon with focus in Orthopaedic Spine Surgery and he will be joining our other physicians at our GGC WKONA location.
His interests are in various conditions of the adult spine, including low back pain, sciatica, radiculopathy, spinal stenosis, degenerative disk disease, disk herniation, spondylosis, spondylolisthesis, myelopathy and trauma of the spine. He brings with him a wide variety of procedures to treat these conditions, including anterior and posterior approach spinal fusion surgery, disc replacement surgery, motion-preserving decompression of the cervical and lumbar spine, SI joint fusion, navigation-guided spine surgery, balloon kyphoplasty, and minimally invasive spinal surgery. While able to provide care through these specialized procedures, Dr. Cook emphasizes the importance of conservative treatment modalities.
Dr. Cook received a Bachelor of Science degree from John Carroll University in Cleveland, Ohio. He then went on to attend medical school at Lake Erie College of Osteopathic Medicine in Erie, Pennsylvania. He then completed his internship and residency in Orthopedic Surgery at Rowan University (Inspira Health Network) in southern New Jersey. His focused Orthopedic Spine Surgery Fellowship was completed at Kaiser Permanente in Oakland, California. Dr. Cook is a member of the American Academy of Orthopaedic Surgeons, as well as the American Osteopathic Academy of Orthopedics. Please contact Graves-Gilbert Clinic to set up an appointment with Dr. Cook.
Department(s)
Location(s)
WKONA
Year Joined GGC
2018
Undergraduate
Bachelor of Science, John Carroll University, Cleveland, OH
MD Degree
Doctor of Oseteopathic Medicine, Lake Erie College of Osteopathic Medicine, Erie, PA
Fellowship
Orthopaedic Spine Surgery, Kaiser Permanente, Oakland, CA
Residency
Orthopaedic Surgery, Rowan University, Glassboro, NJ
Direct Line